Series
n°9 - May 2004
Partnerships for World Heritage Cities
To mark the 30th anniversary of the Convention Concerning the Protection of the World Cultural and Natural Heritage, UNESCO with the support of the Government of Italy, organized, from 14 to 16 November 2002, an International Congress to reflect on some of the main issues, achievements and challenges of the World Heritage mission.
Over 600 experts from around the world gathered at the Giorgio Cini Foundation on the island of San Giorgio in Venice, Italy, to discuss the evolution of the World Heritage Convention and consider its role for the future. In addition, some 400 experts gathered immediately prior to the Congress at nine associated workshops in different Italian cities to reflect on the major themes of the Congress. The nine workshops were:
The Legal Tools for World Heritage Conservation, Siena
Cultural Landscapes: the Challenges of Conservation, Ferrara
Towards Innovative Partnerships for World Heritage, Venice
Partnerships for World Heritage Cities, Urbino-Pesaro
Monitoring World Heritage, Vicenza
Partnerships to Conserve Nature and Biodiversity, Trieste
The Challenge of World Heritage Education, Training and Research, Feltre
World Heritage Site Management, Padua
Mobilizing Young People for World Heritage, Treviso
This publication aims to reflect the discussions and debates around the specific themes as they were discussed over the two days of the workshop. The summary reports of each workshop are also available in the Congress proceedings publication.
Table of Contents
Preface by Francesco Bandarin
Introduction by Minja Yang
Position Paper
Safeguarding and Development of World Heritage Cities by Minja Yang & Jehanne Pharès
Opening Session
Official Welcome
Massimo Galluzzi, Mayor of Urbino; Fabrizio Ago, Representative of the Italian Ministry of Foreign Affairs; Francesco Scoppola, Representative of the Italian Ministry of Culture; Paolo Avarello, President of the Istituto Nazionale di Urbanistica (Italy); Jean-Marie Vincent, Representative of the Government of France; Tamás Fejérdy, President of the World Heritage Committee; Irene Wiese von Ofen, President of the International Federation of Housing and Planning; Ray Bondin, President of CIVVIH-ICOMOS and Minja Yang, Deputy Director of the UNESCO World Heritage Centre
The City as an Expression of Culture: the Case of 14th century Urbino Keynote speech by Leonardo Benevolo
Partnerships for Urban Conservation Strategies by Enrico Fontanari
Culture as a Vector for a Balanced Urban Development by Jean-Marie Vincent
Case Studies
Theme 1: Urban Identity – the Core & the Periphery
Introduction by Yves Dauge
Heritage Protection & Decentralization by Yves Dauge & Minja Yang
Authenticity, Integrity & the World Heritage Convention by Jukka Jokilehto
Protecting the Urban Morphology of Asian Cities by Minja Yang
Urban Identity & Natural Environment – Venice and its Lagoon by Giorgio Lombardi
Cultural Heritage & Urban Development Project for five Historic Cities in Lebanon by Anthony Bigio & Jade Tabet
Integrating or Erasing the Past in Ouidah & Porto Novo (Benin) by Bachir Oloudé
Multi-Ethnicity & Cultural Significance in Georgetown (Guyana) by Ron Van Oers
Town Planning Project & Heritage: towards a New Approach by François Noisette
Strategic Activities to Strengthen Urban Identity in Bergen (Norway) by Siri Myrvoll
English Heritage by Peter de Figueiredo
Inscription of Byblos on the World Heritage List, an Asset for Urban Centrality of Jbeil City (Lebanon) by Jehanne Pharès
Theme 2: Urban Culture for Social Development
Introduction by Irene Wiese von Ofen
Local Economy & Urban Conservation in Zabid (Yemen) by Hadi Saliba
Resource Mobilization in Sana'a & Zabid (Yemen) by Gianni Brizzi
Social Housing & Urban Conservation in Istanbul Historic Peninsula (Turkey) by Nuran Zeren Gülersoy
Events-oriented Rehabilitation - a New Impetus for Barcelona (Spain) by Xavier Casas-I-Masjoan
Urban Culture & Social Development: Looking for Values by Domenico Patassini
The Role of Culture-focused Projects in a Decentralized Co-operation Programme – the European Union Asia Urbs Programme by Vincent Rotgé
Heritage Conservation Efforts in Georgetown, Penang (Malaysia) by Tan Thean Siew
Theme 3: Historic Centres towards Modernity
Introduction by Jean Bakolé
Cultural Tourism & Development in the Six Canal Towns of the Lower Yangtze River (China) by Zhou Jian
Inter-Communality, Cultural Tourism & Development in the Six Canal Towns of the Lower Yangtze (China) by Alain Marinos
Decentralization, Assistance, Investments & Future of the Historic Centres of Africa by Jean-Pierre Elong Mbassi
Urban Mobility & Conservation by Roland Ries
Historic Cities Moving towards Modernity by Beatriz Barco
Historic Towns, Sustainable Development & Tourism by Tamás Fejérdy
Cultural Heritage in Urban Projects of GTZ by Ursula Eigel
Harmonious Collaboration between Development & Preservation – Ajanta & Ellora Project (India) by Yoshio Wada
Partnership Programme of the French Development Agency by Thierry Paulais
Partnership Experiences for World Heritage Cities by Enrico Fontanari & Domenico Patassini

Discussion Highlights by Emmanuelle Robert, Jehanne Pharès & Alexandra Sauvage
Theme 1: Urban Identity – the Core & the Periphery
Theme 2: Urban Culture for Social Development
Theme 3: Historic Centres towards Modernity

Recommendations
Annexes
Annex A: Agenda of the Workshop
Annex B: Urban Heritage on the World Heritage List
Annex C: Acronyms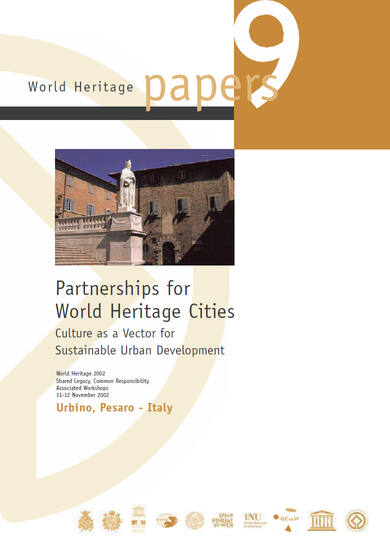 Subscribe to
World Heritage
Printed version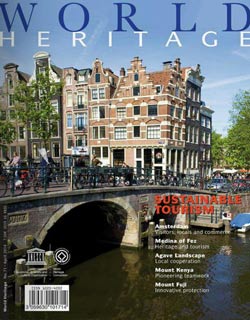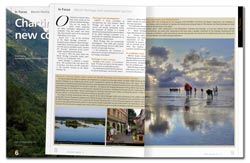 Download
the World Heritage app
Free for a limited time!

Available for iPad, Android and Kindle Fire tablets.
With the app, not only can you read exclusive articles written by experts on the ground, but see videos of the world's most spectacular sites taken by NHK and TBS.
Author
World Heritage Centre
Contact
Tournoux, Marie Noel
Publisher
UNESCO - World Heritage Centre
Issue
9