Series
n°21 - May 2007
World Heritage Forests
Proceedings of the 2nd World Heritage Forest Meeting March 9-11, 2005 Held at Ecole nationale du génie rural des eaux et des forêts (ENGREF)Nancy, France
At the first World Heritage Forests meeting in 1998, 72 forest and biodiversity experts met in Berastagi, Indonesia to discuss the World Heritage Convention's role in the global conservation of tropical forests. Since then, many of the recommendations emerging from this meeting, particularly the inscription of priority forest sites on the World Heritage List, have been achieved. This is clearly demonstrated by the fact that the World Heritage List now contains some 91 forest sites accounting for approximately 13% all IUCN category I-IV protected forests.
In the intervening years, largely thanks to the generous support provided by the United Nations Foundation and with the assistance of several international nature conservation NGOs the World Heritage Centre has been able to support many of the forest sites on the World Heritage List so that, as we go to print, the Centre is currently coordinating several projects supporting forest conservation in 21 World Heritage forest sites and in an additional 4 candidate sites around the globe, with a total budget of more than US $23 million. A significant portion of this conservation attention is directly attributable to the meeting in Berastagi.
The preceding figures aside however, the long term picture remains bleak for many forest sites on the World Heritage List, and the threats to most of these globally important biodiversity sites are in most cases increasing due to factors arising not from within the sites but from outside their boundaries.
The 2005 World Heritage Forests meeting was convened in Nancy for this purpose; how can a World Heritage forest protected area effectively interface with its surrounding landscape and stakeholders in order that its value is maintained in perpetuity? In short, how can a World Heritage forest site participate in a landscape or ecosystem approach to conservation and sustainable use.? Besides, once the necessary principles and mechanisms have been elaborated, what kind of support is needed for the site and its surroundings from the local, national and international communities?
The second World Heritage Forests meeting, organised by the World Heritage Centre, was hosted by the French national school of forestry – ENGREF in Nancy from March 9-11 2005. Forty professionals representing the major biodiversity conventions, donors, non-governmental organizations and training institutions worldwide, along with conservation practitioners, traveled to Nancy and exchanged ideas intensely over the three day meeting.
The Nancy meeting outputs are contained in the following publication, together with recommendations, as presented to the World Heritage Committee at its 29th session. Illustrating and reinforcing these recommendations are a selection of articles and case studies intended to assist all those involved in World Heritage forest site management, from the ground level site manager to the government decision maker, to move towards the integration of forest protected areas with their surrounding socio-economic and ecological landscapes. The publication also contains, for the first time, a snapshot on the State of Conservation of World Heritage forests. I hope this will prove to be the first in a series of regular reports on World Heritage forests, helping us track progress over time, and thus become a valuable resource for forest conservation stakeholders worldwide.
Table of Contents
World Heritage Forests: What Value Added?
Marc Patry
The State of Conservation of World Heritage Forests
Marc Patry, Clare Bassett and Benedicte Leclercq
World Heritage Forests Meeting: Emerging Recommendations and the Future of the Forest Programme
Steven Ripley
The Convention on Biological Diversity Ecosystem Approach: Forests and Protected Areas
Sarat Babu Gidda
The United Nations Forum on Forests and theWorld Heritage Convention
Michel Laverdière
How Useful is the Landscape Approach?
Benjamin Singer
The 'Forest Landscape Approach': Lessons Learnt from World Heritage Cultural Landscapes and Beyond
Mechtild Rössler
Managing the Protected Areas - Landscape Dynamic: The International Model Forest Network Program
Peter Besseau
Managing a Protected Area Within its Wider Landscape: Tools for Assessment and Enhancement
Leonardo Lacerda, Marc Hockings, Steven Ripley, and Luis Roberto Numa de Oliveira
Land Use Planning and Regulation In and Around World Heritage Sites and Other Protected Areas: A Study of Best Practices and Capacity-Building Needs in Mexico and Central America
George N. Wallace, James R. Barborak, and Craig MacFarland
Landscape-Level Considerations in Protected Area Management: What We Have Learned
Ryan Finchum, George Wallace, Craig MacFarland
Capacity-Building of Managers in Multi-Use Landscapes: Recent Experiences of CATIE in Sustainable Forestry Management
Glenn Galloway
Mobile Seminars for Training Managers of World Heritage Sites and Other Protected Areas in Landscape-level Conservation Issues
James R. Barborak
Kaziranga National Park and World Heritage Site, India: Taking the Long View
Vinod Mathur, Ashok Verma, Nigel Dudley, Sue Stolton, Marc Hockings, and Robyn James (UNF-UNESCO 'Enhancing Our Heritage' Project Team)
Protecting Tropical Forests of Global Importance: The Central African Landscape Approach
Terese Hart and Guy Debonnet
Integrating World Heritage Sites into a New Protected Areas System: The Case of Madagascar
Vololoniaina Rasoarimanana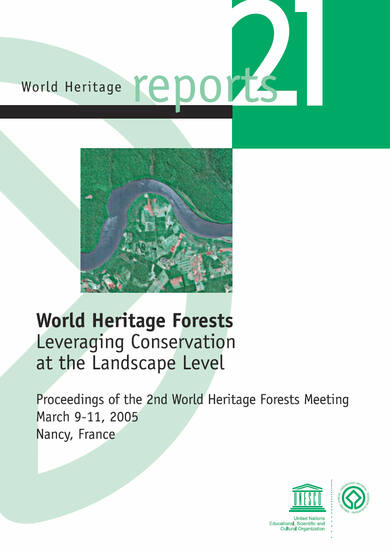 Subscribe to
World Heritage
Printed version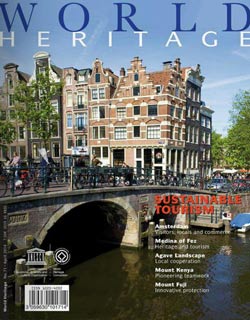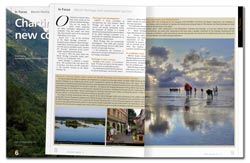 Download
the World Heritage app
Free for a limited time!

Available for iPad, Android and Kindle Fire tablets.
With the app, not only can you read exclusive articles written by experts on the ground, but see videos of the world's most spectacular sites taken by NHK and TBS.
Author
World Heritage Centre
Publisher
UNESCO - World Heritage Centre
Issue
21