World Heritage
World Heritage is the official UNESCO publication from the World Heritage Centre. Featuring in-depth articles on cultural and natural World Heritage sites. The quarterly review is produced in English, French and Spanish.
Download
the World Heritage app
Free for a limited time!

Available for iPad, Android and Kindle Fire tablets.
With the app, not only can you read exclusive articles written by experts on the ground, but see videos of the world's most spectacular sites taken by NHK and TBS.
Subscribe to
World Heritage
Printed version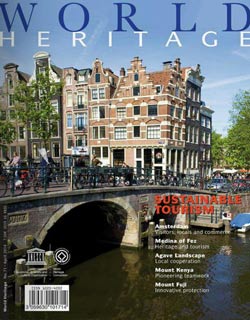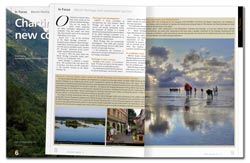 This year, the World Heritage Committee will meet for its 41st session in the World Heritage site of the Historic Centre of Kraków. We are very pleased to be hosted by Poland, an early supporter of the World Heritage Convention whose experts even ...
Quarterly magazine published jointly in English, French and Spanish, by the United Nations Educational, Scientific and Cultural Organization (UNESCO), Paris, France and Publishing For Development Ltd., London, United Kingdom.
Editorial Director: Mechtild Rössler (Director, UNESCO World Heritage Centre)
Managing Editor: Vesna Vujicic-Lugassy
Editors: Helen Aprile, Gina Doubleday
Co-Publisher: Richard Forster
Production Editor: Caroline Fort
Copy Editors: Cathy Nolan (English), Chantal Lyard (French), Luisa Futoransky (Spanish)
Editorial Board: ICCROM: Joseph King, ICOMOS: Regina Durighello, IUCN: Tim Badman, UNESCO World Heritage Centre: Nada Al Hassan, Isabelle Anatole-Gabriel, Feng Jing, Edmond Moukala, Mauro Rosi, Petya Totcharova, UNESCO Publishing: Ian Denison
Editorial Assistant: Barbara Blanchard
Advertising: Efrén Calatrava, Fernando Ortiz, Fadela Seddini, Peter Warren