World Heritage
n°47 - October 2007
World Heritage n°47

In Focus
New World Heritage sites 2007 Twenty-two sites were added to the World Heritage List during the 31st session of the World Heritage Committee held in Christchurch, New Zealand, bringing the total of inscribed sites to 851 (p.4)
uKhahlamba/Drakensberg Park, South Africa (p.20)
Vegaøyan, Norway (P.26)
Quebrada de Humahuaca, Argentina (p. 29)
Osun-Osogbo Sacred Grove, Nigeria (p. 32)
Zamość, Poland (p. 34)
Ha Long Bay, Vietnam (p. 42)
Ngorongoro Conservation Area, Tanzania (p.48)
Close-Up
Impact of tourism on World Heritage sites. Survey by the National Geographic Centre for Sustainable Destinations. (p.54)
From our Advisory Bodies
Challenges of expanding and conserving marine World Heritage. (p. 46)
Interview
Interview with Mrs Françoise Rivière, Assistant Director-General for Culture at UNESCO (p.62)
Conventions
A global network of forest protected areas; Intergovernmental Committee for the Safeguarding of Intangible Cultural Heritage meets in Chengdu, China (p.75)
News
Preservation
(pp. 80-86)
Oman's Arabian Sanctuary first site to be delisted;
Protecting Esfahan;
Torrential landslide at Kamchatka;
Restoration and management at Kizhi Pogost
Sites in Danger(pp. 88-92)
Dresden kept on Danger List with warning;
Oil boom and preservation in Azerbaijan;
Poaching and killing of endangered species
Outreach (pp. 94-100)
Asia-Pacific World Heritage Youth Forum in New Zealand;
Prince Charles inaugurates World Heritage site;
Patrimonito in Ethiopia and the Russian Federation
In Print & Online (p.102)
A selection of books, brochures or publications, press articles and multimedia dedicated to World Heritage.
Calendar
For subscription information, please contact subscriptions@dl-servi.com.

Subscribe to
World Heritage
Printed version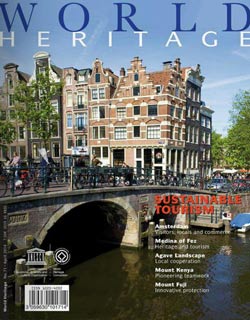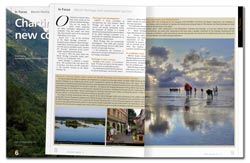 Download
the World Heritage app
Free for a limited time!

Available for iPad, Android and Kindle Fire tablets.
With the app, not only can you read exclusive articles written by experts on the ground, but see videos of the world's most spectacular sites taken by NHK and TBS.
Author
World Heritage Centre
Publisher
UNESCO - World Heritage Centre
Issue
47