World Heritage
n°46 - June 2007
World Heritage n°46
Special issue: World Heritage in New Zealand
Special issue on World Heritage sites in New Zealand, at the occasion of the 31st session of the World Heritage Committee held from 23 June to 2 July in Christchurch, New Zealand.
Special Issue
Message from UNESCO Director-General Mr Koïchiro Matsuura (p.4)
An Interview with Mr Tumu te Heuheu, Paramount Chief of the Ngati Tuwharetoa Māori Tribe and Chair of the 31st session of the World Heritage Committee (p.34)
In Focus
Tongariro National Park
The spectacular landscape of Tongariro has cultural and religious significance for the Māori people and is New Zealand's oldest national park. (p.8)
Te Wāhipounamu – South West New Zealand
The breathtaking diversity and beauty of New Zealand's highest mountains, longest glaciers, tallest forests, wildest rivers, most rugged coastlines and deepest fjords and lakes. (p.18)
New Zealand's Subantarctic Islands
These five remote and relatively untouched island groups are home to diverse species and inspired conservation initiatives. (p.26)
Close-Up
World Heritage in the Pacific Island Nations. The outstanding cultural and natural heritage spanning more than a thousand islands. (p.36)
From our Advisory Bodies
ICCROM's involvement in supporting preservation of cultural heritage in the Pacific Islands and the Asia-Pacific Region. (p.46)
Conventions
Pacific Regional Environment Programme support for World Heritage; A blank spot on the World Heritage map. (pp.50-54)
News
Preservation
Frozen tombs and global warming; Viet Nam and Lao PDR promise transboundary cooperation; Effective management; Historic cities in Eastern Europe; Mid-Atlantic Ridge; Fire in Valparaiso. (pp.56-58)
Sites in Danger
Bam to get Management Plan; Attack on Dečani; Bamiyan progress report. (pp. 60-63)
Outreach
Sharing Our Heritages; Training heritage professionals; Large boost for the Africn World Heritage Fund; The carboNZero programme; Royal Palaces of Abomey in Young African Hands; Cultural tourism in the Syrian Arab Republic. (pp.66-71)
In Print & Online
A selection of books, brochures or publications, press articles and multimedia dedicated to World Heritage. (p.74)
Calendar
For subscription information, please contact subscriptions@dl-servi.com.

Subscribe to
World Heritage
Printed version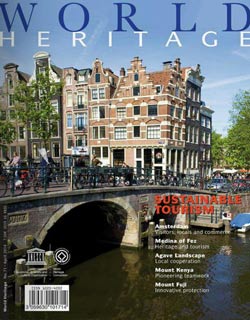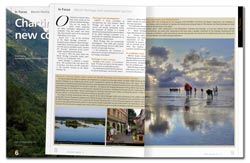 Download
the World Heritage app
Free for a limited time!

Available for iPad, Android and Kindle Fire tablets.
With the app, not only can you read exclusive articles written by experts on the ground, but see videos of the world's most spectacular sites taken by NHK and TBS.
Author
World Heritage Centre
Publisher
UNESCO - World Heritage Centre
Issue
46