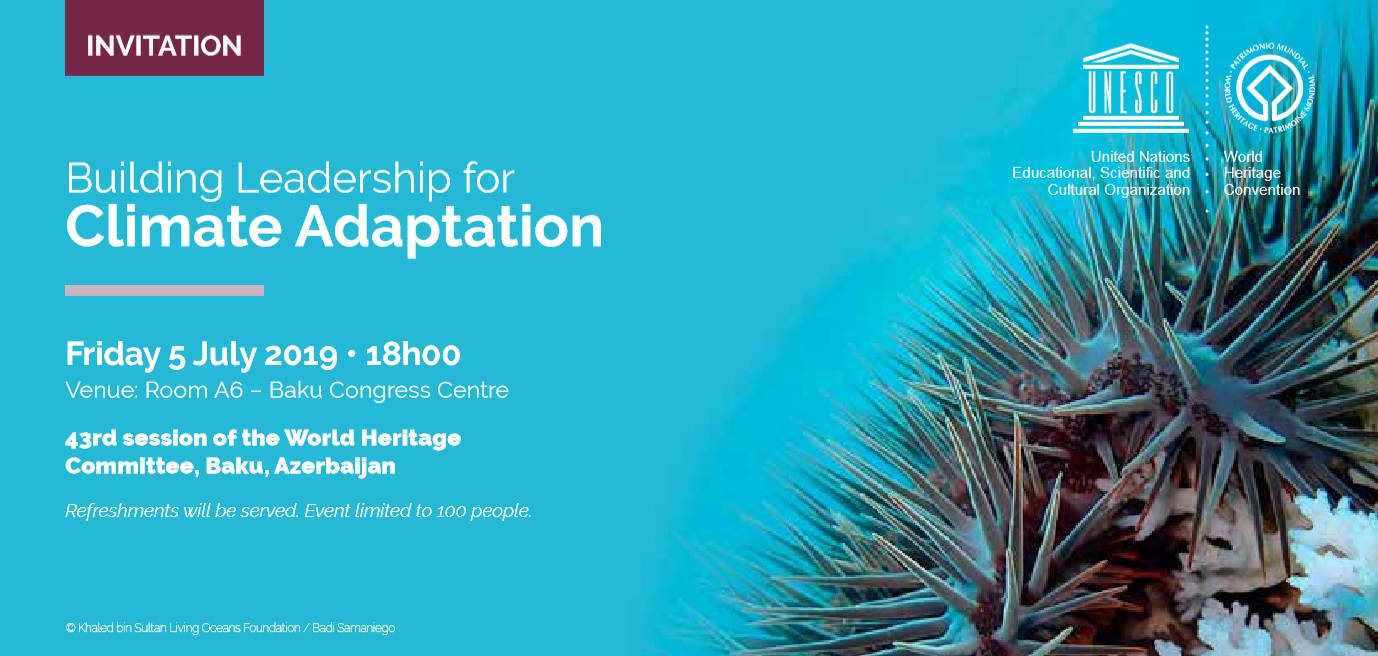 On Friday 5 July, the World Heritage Centre and partners will present the scope, aim, and expected deliverables of the Resilient Reefs climate adaptation initiative. The initiative is a 4-year USD$9 million public-private consortium that will build climate resilience leadership in an initial five UNESCO World Heritage Listed coral reefs, including Rock Islands Southern Lagoon (Palau), Lagoons of New Caledonia (France), Belize Barrier Reef Reserve System (Belize), Ningaloo Coast and the Great Barrier Reef (Australia).
The event will take place on Friday 5 July from 6:00pm to 8:00pm in Room A6 at the Baku Congress Center as part of the 43rd session of the World Heritage Committee in Baku, Republic of Azerbaijan (30 June to 10 July 2019). 
The event will include testimonials from local management at World Heritage marine sites about the effects of climate change on Outstanding Universal Value and the effectiveness of the Resilient Reefs project approach in establishing climate adaptation strategies. Local managers will illustrate how the project will deliver resilience and help sites plan strategically to adapt conservation practices in an uncertain climate. The event will further deliver a vision for climate adaptation leadership across World Heritage properties beyond the initial five pilot sites. 
The initiative responds to Decision 41COM7 in which the World Heritage Committee calls upon all States Parties to strengthen efforts to build resilience of World Heritage properties to climate change. It further builds on the results of the first global assessment of impacts of climate change on World Heritage Listed coral reefs published in 2017. The assessment concluded that coral bleaching events have caused severe coral bleaching and mortality of World Heritage listed reefs around the world. While limiting earth temperatures to 1.5° above pre-industrial levels consistent with the United Nations Framework Convention on Climate Change (UNFCCC) Paris Agreement is critical for the survival of World Heritage Listed reefs, at the local level sites need to focus on building resilience to give them the best chance to adapt to climate change.
The initiative is led by an international consortium of partners, including the UNESCO World Heritage Centre, the Rockefeller Foundation (100 Resilient Cities), BHP Foundation, the Nature Conservancy's Reef Resilience Network, the Great Barrier Reef Foundation and the global consultancy in environmental engineering, AECOM.